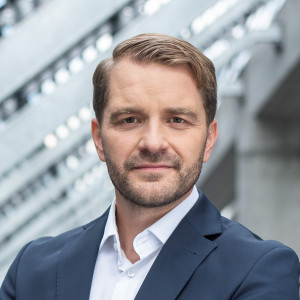 Łukasz Żelezik
Executive Director
CAVATINA HOLDING SPÓŁKA AKCYJNA
He is a Executive Director responsible for leasing office space  at Cavatina Holding.
He has over 14 years of professional experience in the commercial real estate market –particularly  office sector. Before joining Cavatina, he was the Partner at   Colliers International Poland and previously  Head of the Leasing Team Echo Investment. Understanding the process from the property owner's perspective combined with technical and legal knowledge is undoubtedly Łukasz's strength in the leasing process.
Łukasz successfully leads lease transactions, coordinating groups of architects, lawyers, engineers and property managers. He has actively taken part in leasing nearly 320K m˛ of office space in the most prestigious office buildings in Poland. Between 2016–2019 he was leading team of L-rep division at Colliers Office Agency. In that time volume of transactions conducted by Łukasz's team exceeds more than 250K m˛ mainly Warsaw and also reginal markets.
Throughout his professional career Łukasz cooperated, among others, with such companies as: APN Promise, Bank NY Mellon Poland, Energizer Group Polska, Ericsson, Estée Lauder Poland, GASPOL Energy, Grupa LUX MED, IBM, K2 Internet, Peugeot Polska, Schneider Electric Polska, Stanley Black & Decker Polska, TOTAL Polska, Pekao Financial Services, Deutsche Leasing, Grupa Impel, C&A, Aviva, Publicis, Tieto, Colgate Palmolive, Daikin Poland. The largest transaction in which Łukasz participated, was lease contract between GGH and mBank – 46 K m.