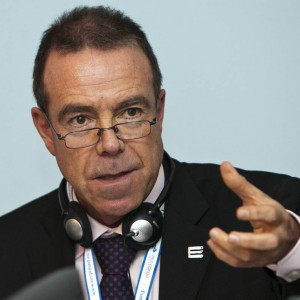 Pete Kercher
Ambassador
EIDD -Design for All Europe
Pete Kercher followed up a law degree from Southampton University with a period in international youth politics (Vice-President, European Federation of Liberal and Radical Youth, 1975-77).
Moving to Italy in 1978, he established a communications and strategic design consulting agency in Italy in 1978 (now KSDC). Executive Officer of BEDA, the Bureau of European Designers Associations (www.beda.org) in 1988-94, he then represented Italy on its Board of Directors until 2002. A founder member of EIDD – Design for All Europe (www.dfaeurope.eu) in 1993 (President in 2003-07) and of its national counterpart Design for All Italy (www.dfaitalia.it) in 1994 (President 1997-99), he has served as EIDD's roving Ambassador since 2007.
A convinced believer in applying design methods to the strategic challenges generated by today's complex and continuously changing society, so as to trigger interdisciplinary cross-fertilisation and synergy, he writes articles and manifestos for political, legal and design publications, chairs and addresses conferences, seminars and symposia all over Europe and the rest of the world, provides strategic design consultancy to many international projects, teaches in several schools and universities all over Europe and holds workshops in the application of Design for All and strategic design methods to issues of audience development in the fields of culture, cultural heritage and inclusion.
Co-chair in 2016 and 2017 of the International Design for Inclusion Conference, held annually in the framework of the AHFE Conference (Applied Human Factors and Ergonomics), he is very active in the field of employing culture for sustainable development, both nationally in Italy and with the European institutions. Recent appointments include that of strategic design consultant to Kaunas 2022 European Capital of Culture (since 2018) and membership of the knowledge community of the CCW – Cultural Welfare Centre (2020).