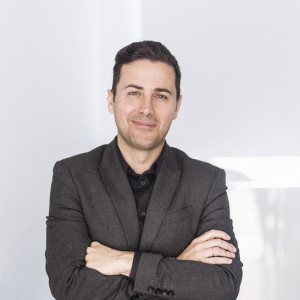 Fran Silvestre
Architect, CEO
Fran Silvestre Arquitectos
Fran Silvestre is an architect with honors by the UPV and Urbanist by the TU / e of Holland, Professor of the Department of Projects of the UPV and the European University of Valencia, Director of the MArch programs Architecture and Design, as well as Doctor Cum Laude by the UPV. In 2011 he was deputy director of the Higher Technical School of Architecture of Valencia. In 2018 he won the Victor L. Regnier chair of the KSU in the United States.
His studio, Fran Silvestre Arquitectos, was founded in 2005 and has the collaboration in Alfaro Hofmann's projects in Interior Design. He has also collaborated with international studies, highlighting the collaboration with the Pritzker Álvaro Siza Prize.
He has received first national and international awards such as the German Design Award 2019 (Frankfurt), the XIII Spanish Biennial of Architecture and Urbanism 2016 (Granada), the Red Dot Design Award 2013 (Essen), the IFCC Awards 2016 (New York) , or the National Competition Fundación Caja de Arquitectos (Barcelona), among others.
In addition, he has been invited to present his work in numerous seminars and conferences at universities and international institutions, including Kansas State University, New York AIA or Virginia Tech. He has also exhibited in various museums and art and design galleries at national and international level, such as the Serralves Museum within the framework of Inovdesign, or MoMA through the collective On-Site exhibition.
His projects are spread all over the world, highlighting places such as China, the United States, Brazil, Croatia or Spain, and have been published in international architecture and interior design magazines. Among them, Architectural Record, GA Houses, On Diseño or Interni. Also in publishers such as Phaidon, Taschen, Thames & Hudson or GG. Likewise, several monographs have been published that collect much of the study's work, such as those carried out by TC Cuadernos, A.Mag or Arianuova.
Throughout its trajectory, the study has worked on small and large-scale projects. It is worth noting the Cliff House (Alicante, Spain), the Balint House (Valencia, Spain), the Hofmann House (Valencia, Spain), the House in Hollywood Hills (Los Angeles, USA), the Zibo Masterplan (Zibo, China) , the Hotel-Boutique (Vis, Croatia). Or the Wind Tower (Valencia, Spain).