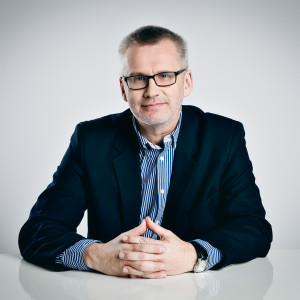 Szymon Wojciechowski
Szymon is an architect with over thirty years of experience. He graduated from the Faculty of Architecture of Warsaw University of Technology, and is a member of the Regional Chamber of Architects (Mazowieckiej Okręgowej Izby Architektów). Since 1982 he has been working with studio APA,  currently APA Wojciechowski Sp. z oo, in which he serves as CEO. Many years of experience combined with a passion to create and a fondness for beautiful shapes allows him to design buildings not only with unique designs and spectacular interiors, but also great functionality.
 Author or co-author of many well-known architectural projects, including White Square Office Center in Moscow, Alchemy in Gdansk, Galeria Malta in Poznan, and EC Powisle in Warsaw.
 Winner of numerous awards including 1st place in the competition "Forbes Professionals 2012" - Competition in the category  of Public Trust in Mazowieckie – Architect.
Architect of the year- Business Center Class A - granted by the Commercial Real Estate Moscow Awards 2010, and winner of the "Architect of the year 2009 ", awarded by CEE Real Estate Quality Awards in cooperation with the Financial Times.
APA Wojciechowski Architects has been designing great buildings since 1989 and is one of the largest architectural firms in Poland. It employs nearly one hundred architects in Poland, Russia, and Ukraine.
 APA Wojciechowski's talented and competent team of professionals are eager to work with the customer through the challenging period of the design process, so that the resulting buildings bring satisfaction to the customer, the users, and the architects in a manner which serves the environment.
 Recent projects include:  White Square and White Gardens in Moscow and The Park in Warsaw for White Star Real Estate, Alchemy I and II for the Torus company in Gdansk, and the first several buildings in Warsaw's Port  Praski.
APA Wojciechowski is one of the Polish leaders in eco-design, which is confirmed by numerous LEED and BREEAM certified buildings and special awards for green building design. 
Participates in the sessions:
Hot list – the most interesting commercial and public projects of recent years

A review of the most spectacular investments and projects of recent years. Presentations of the most interesting projects, presentations of creators – investors and architects. Learn about the most recent trends, find out who has designed the newest facilities and interiors, and who has fitted them out. Find inspirations for your own projects!

Hot list – the most interesting commercial and public projects of recent years
BACK