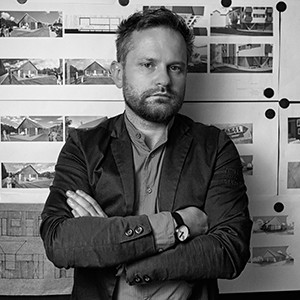 Krzysztof Faber
Chief Designer, Founder
FAAR Architekci
The main designer and founder of the FAAR architects studio. An architect with many years of experience in Poland and abroad. He has worked on projects in the residential, public and educational sectors which have won prestigious awards. He studied at the Department of Architecture of the Technical University of Krakow, as well as at the Birmingham Institute of Art and Design (BIAD) of Birmingham City University in Great Britain. In 2008 he was honoured by The Birmingham & FIVE Counties Architectural Association Trust with the annual Green Book Award at the Birmingham School of Architecture. He has obtained his professional experience at architectural studios in Krakow as well as in Great Britain (Associates Architects LLP, Glenn Howells Architects). Since 2015 president of the Local Urban-Architectural Committee in Wadowice.
Privately the dad of Karol, an enthusiast of jazz music, running and basketball. 
Participates in the sessions:
Property open to the city.

Squares, greens, food zones, structural landscaping and street furniture. This is how commercial facilities are opening up to cities

Property open to the city.
BACK